HOLD ON!
There are versions of this character available that don't have their own branch articles!
Please help us document the following:
This article is about the E-series robot from the Sonic the Hedgehog series. For other uses of Omega, see Omega (disambiguation).
E-123 Omega is a robot from the Sonic the Hedgehog series. He is part of the E-100 Series of robots created by Dr. Eggman, alongside E-100 Alpha, E-101 Beta, E-102 Gamma, E-103 Delta, E-104 Epsilon, E-105 Zeta, E-106 Eta, E-107 Theta and E-121 Phi.
Accidentally reactivated by Rouge when she released Shadow from his stasis pod while looking for Eggman's secret treasure, Omega mistook Shadow as one of Eggman's robots and started attacking him. After clearing things up, Omega (with the help of Rouge and Shadow) set out on a mission to get revenge upon Dr. Eggman for abandoning him, and to destroy all the other 'inferior' robots that Eggman had created.
In M.U.G.E.N, E-123 Omega has been created by SC1614, Fou the Mage of the Sun and Gladiacloud. Gladiacloud's version uses enlarged and edited sprites based on Gussprint's spritesheet, and fights using mainly his fists and various weaponry.
SC1614's version
A prototype model that doesn't feel at all finished, this Omega uses an unfinished sprite sheet by TyDillX3theHedgehog and offers little more than one Hyper and very limited combo options. It is also a Kung Fu Man edit.
Gladiacloud's version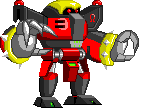 A character that assumes some traits of a typical power character, such as slow but ranged Normals and a large hurtbox, but has the added bonuses of ranged weaponry and high dash velocities, in exchange for a reduction in attack damage. While E-123 Omega has a formidable array of ground tools to dispose of worthless consumer models from any distance, its poor aerial capabilities make even regular jumping a highly unfavourable action.