WARNING!
Both this article and the content documented in it contain language that may be considered offensive to some users. Continue reading and/or choose to download the content at your own discretion.
This subpage contains any edits of CaptainOwl's version of Duane. What is listed here is limited to what the edits change, meaning information should not be duplicated from the article about the original version outside of the idle animation and portrait, even if they haven't changed.
Super! :3's edit (Jobel)
Jobel (

The Jobel

)



Editor

Super! :3

Download

Resolution

Low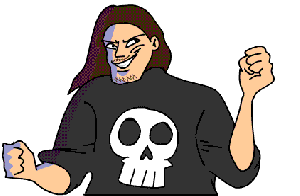 This edit replaces Duane's sprites with custom made sprites of Vinesauce Joel, as well as adding a portrait and victory quotes; it also adds hurtboxes to most of the animations that lacked them and increases most of his stats even further. The gameplay remains unchanged and the character still has only one attack which is an untrue OHKO.
Stats
Movelist
Unchanged from original version.
Palette Gallery
Victory quotes
"

GRAND DAD!? GRAND. DAD.

"
"

Enter name? How about Expand Dong.

"
"

And I thought Doom Guy was overpowered, holy shit!

"
Ad blocker interference detected!
Wikia is a free-to-use site that makes money from advertising. We have a modified experience for viewers using ad blockers

Wikia is not accessible if you've made further modifications. Remove the custom ad blocker rule(s) and the page will load as expected.