No one can stop this Duane, with poorly ripped sprites taken from screencaps of the film. While it has only one functional attack, it is an OHKO, and its animations have either no or incredibily small hitboxes. Also, it has incredibily buffed stats, making it very cheap and unbeatable unless you have an OHKO move.
The Duane (

DuaneDance

)

Creator

CaptainOwl

Download

Resolution

Low
Gameplay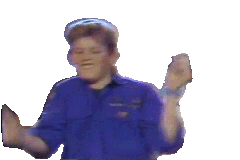 The Duane is a character with only one functional attack, with said attack being an OHKO aerial that is activated by pressing (A)

, though it is an untrue OHKO because it deals high amounts of damage off of a severely inflated Attack stat rather than setting an opponent's Life to zero; the character also has a standing (A)

and (B)

, but while they do have hitboxes, they are incapable of making contact with an opponent.
In addition to having an untrue OHKO, The Duane lacks hurtboxes in several animations, including his idle animation, and for the animations he does have hurtboxes for, most of them are small enough so as to be difficult to hit, though the animations of his two non-functional Normals have hurtboxes that are larger than the character himself; even if an attack does makes contact with The Duane, it is extremely difficult to KO him without an OHKO move because of his incredibly inflated Life and Defence stats. A character with incredibly high Life and/or Defence stats can survive The Duane's OHKO attack, with a good example of this being The Duane himself, whose escalated Life and Defence stats allow him to survive multiple hits of it.
While this character has no custom A.I. and uses the engine's default, most characters will be K.O.d if the A.I. decides to randomly use the OHKO attack, though it will often take a while for him to activate the attack due to way the default A.I. works.
Stats
Movelist
This character does not have any Special or Hyper Attacks.
Palette Gallery
Victory quotes
This character does not have any victory quotes, meaning it uses the screenpack's default.
Videos
Edits
This character has been edited. For a full list of edits, see Edits.