The Duane is a character from the 1989 direct-to-video film Barbie Dance Club, with the appearance of a dancing boy in a blue shirt.
In the film, Duane starts to dance when his name is called out to the center stage. The clip of Duane dancing became viral when it was introduced by the found-footage curation site Everything is Terrible! in 2009. The clip was parodied and mock-ups were made many times since.
In M.U.G.E.N, Duane has been made by CaptainOwl. This character appeared in Vinesauce Joel's M.U.G.E.N streams and Duane's popularity increased as a result.
CaptainOwl's version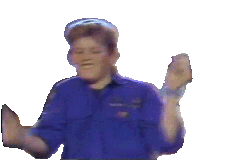 No one can stop this Duane, with poorly ripped sprites taken from screencaps of the film. While it has only one functional attack, it is an OHKO, and its animations have either no or incredibily small hitboxes. Also, it has incredibily buffed stats, making it very cheap and unbeatable unless you have an OHKO move.
Ad blocker interference detected!
Wikia is a free-to-use site that makes money from advertising. We have a modified experience for viewers using ad blockers

Wikia is not accessible if you've made further modifications. Remove the custom ad blocker rule(s) and the page will load as expected.