Would Donkey Kong ever be able to masquerade as both the ruler of Kongo Bongo AND the god of thunder? Absolutely not. This character's incredibly poor gameplay, sloppy coding and poorly ripped sprites make it an absolute zero, and nobody's hero.
Donkey Kong (

DK

)



Creator

S.Nara

Download

Resolution

Low
Gameplay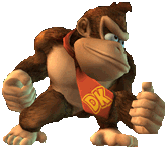 Donkey Kong uses (X)

and (A)

as its only Basic Attack buttons, but the other buttons can also link to unused moves, as evidenced by how it gains power when this happens.
His standing (A)

has a larger hitbox than expected, not helped by the fact that it does higher than average damage. Two of his Specials (Place barrel and Barrel Trow) can also be infinitely spammed, resulting in a cheap victory. These moves use Power, but don't require it, possibly due to a coding error.
Donkey Kong's A.I is rather easy, but it could be harder than usual due to the broken nature of the character. That being said, the A.I doesn't abuse any of the character's broken aspects.
Stats
Movelist
Hovering the mouse cursor over the Command Input icons will display text that refers to the inputs set in M.U.G.E.N's Key Config.
Icons encased in square brackets [

] require the respective button(s) to be held down. Hovering the mouse cursor over the icon displays the hold duration if applicable.
Specials
Name
Command Input
Properties
Name
Command Input
Properties

| | | |
| --- | --- | --- |
| Place barrel | | |
Name
Command Input
Properties
Hypers
Name
Command Input
Properties

Drums
Requires 0 Power
Uses 3000 Power
Palette Gallery
Victory quotes
This character does not have any victory quotes, meaning it uses the screenpack's default.
Videos
Trivia
Oddly enough, Donkey Kong uses voice clips from Raiden and Quan Chi.
Edits
This character has not been edited.