Unlike the other versions of Dr. Doom, this version is based off the infamous Foot Dive move used by many players in both Marvel vs. Capcom 2 and Marvel vs. Capcom 3's metagame. The nature of this character most likely means that it is accurate to the infamous indie game, DiveKick. That being said, this version's only move is a One-hit-knockout. "FOOT DIVE!"
DiveKick_Doom (

DiveKick_Doom

)



Creator

酷斯査 波里諾

Download

Resolution

Low
Gameplay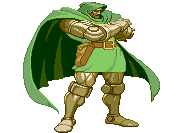 DiveKick Doom is a joke character that only uses two buttons: (X)

to jump (which can still be done with

), and (A)

to deliver the foot dive while in the air. As his name suggests, it is almost accurate to the popular joke indie game, DiveKick.
While this Doom is indeed a joke character, it is still extremely cheap. The titular Attack is a OHKO, not helped by its unblockable nature. As a corollary, Doom can't walk or block, and is also instantly KO'd if an Attack, no matter what it is, connects.
Doom doesn't seem to have a custom A.I. implemented, making it a quick jab-and-win victory. It seems to be more dangerous in the hands of a player.
Stats
Movelist
This character does not have any Special or Hyper Attacks.
Palette Gallery
| | | |
| --- | --- | --- |
| | | |
| DiveKick_Doom | DiveKick_Doom | |
Victory quotes
This character does not have any victory quotes, meaning it uses the screenpack's default.
Videos
Edits
This character has not been edited.