Demitri Maximoff is a character from Capcom's Darkstalkers series of video games. A vampire noble, Demitri seeks to conquer the Makai (Hell) and become it's ruler. After being defeated by Belial, one of the three Demon Nobles, he was banished to the mortal realm, along with his castle. He prepared to return to Makai, eventually defeating Pyron and absorbing a portion of his power.
In M.U.G.E.N, He has been made by Gal129 and YoungKirei. He is Known for his Midnight Bliss attack and there are Characters compatible with this attack.
Ryon's version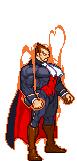 While it is supposed to play like Capcom Fighting Jam, this Demitri seems to play a custom way. It is still Demitri Maximoff through and through.
Videos