Referred to as Metal Eggman in-game, this is a boss character which is as faithful as the source game as possible, possesing the same attack pattern as seen in Sonic the Hedgehog 2 and having hurtboxes on the spikes on its arms, though it can also be controlled by the player.
Metal Eggman S2 (

Robotnik S2 FB

)



Creator

supermystery

Download

Resolution

Low
Gameplay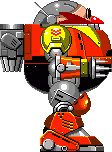 Metal Eggman S2 is a boss character that sports the same moveset as its incarnation from Sonic the Hedgehog 2; like in the source game, its only weak spot is its belly and touching the spikes on its arms will result in the opponent taking damage. As expected from a boss character, it has Super Armor.
This character can also be controlled by the player, having a very simple moveset. Its attacks deal a lot of damage, making it very cheap when controlled by the player. Most A.I-controlled characters will fail to beat this character because most of the time when they attempt to attack, they will hit the spikes on its arms and usually get crushed by Metal Eggman when it crashes down, making fights as Metal Eggman a breeze.
While it's as source-accurate as possible, there are still a few differences. Metal Eggman drops three bombs instead of two and drops them while taking off, as opposed to dropping two after crashing down when the player is behind it.
Its A.I. is programmed to replicate the pattern of the boss from the source game, starting by using Marsh and using Jet Target Smasher after a while and dropping bombs. After crashing down, it either uses Cutting Hands or Marsh. This pattern is repeated until the match is over. It's very hard to fight it with physical attacks because it's hard to hit it without touching the spikes on its arms. The best way to deal with it is by using projectiles.
Stats
Movelist
Hovering the mouse cursor over the Command Input icons will display text that refers to the inputs set in M.U.G.E.N's Key Config.
Icons encased in square brackets [

] require the respective button(s) to be held down. Hovering the mouse cursor over the gap displays the hold duration if applicable.
Name
Command Input
Properties

| | | |
| --- | --- | --- |
| March | | |
Name
Command Input
Properties

| | | |
| --- | --- | --- |
| Bomb | | * |
Name
Command Input
Properties
Name
Command Input
Properties

| | | |
| --- | --- | --- |
| Jet Target Smasher | | while launching off to drop bombs |
Palette Gallery
| | | |
| --- | --- | --- |
| | | |
| metaleggman | robotnikS2FZnw | robotnikS2FZyel |
| | | |
| robotnikS2FZpup | robotnikS2FZlime | |
Victory quotes
This character does not have any victory quotes, meaning it uses the screenpack's default.
Videos
Edits
This character has not been edited.
Ad blocker interference detected!
Wikia is a free-to-use site that makes money from advertising. We have a modified experience for viewers using ad blockers

Wikia is not accessible if you've made further modifications. Remove the custom ad blocker rule(s) and the page will load as expected.