HOLD ON!
There are versions of this character available that don't have their own branch articles!
Please help us document the following:
Death Egg Robot



Creator(s)

supermystery

Oldest version

supermystery's version (2009)

Newest version

PineappleProducer's version (2017)

Origin

Sonic the Hedgehog
The Death Egg Robot is the final boss of Sonic the Hedgehog 2. It is the second boss fought in the Death Egg Zone, following immediately after Silver Sonic. It reappeared in the games Sonic the Hedgehog 4: Episode I and the console/PC version of Sonic Generations. Giant, mass-produced variants of the Death Egg Robot appear in the upcoming game Sonic Forces.
It is a giant mech piloted by Dr. Robotnik. It is one of the hardest bosses in the classic Sonic games, due to the fact that there are no Rings in the zone, meaning taking just one hit will cause you to lose a life and force you to restart the entire zone. Also, you have to fight Mecha Sonic before it and it's very easy to hit the spikes on the arms of the boss while attempting to hit its belly, which is its only weak spot. In Sonic the Hedgehog 4: Episode I former, it is once again the final boss of the game, with an updated design. In the console/PC version of Sonic Generations, it is the boss of the game's Classic Era.
In M.U.G.E.N, Death Egg Robot has been made by supermystery and PineappleProducer, with supermystery's version being a conversion of the boss fight from Sonic the Hedgehog 2 and PineappleProducer's version being a joke character released on April Fools with the Death Egg Robot's head replaced by Billy Mays' head.
Supermystery's version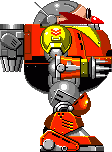 Referred to as Metal Eggman in-game, this is a boss character which is as faithful as the source game as possible, possesing the same attack pattern as seen in Sonic the Hedgehog 2 and having hurtboxes on the spikes on its arms, though it can also be controlled by the player.