SEVERE WARNING!
This article contains information about a character or stage with animations that may trigger seizures in readers with photosensitive epilepsy. It is strongly advised that you do not download this character/stage or continue reading this article if you are prone to seizures.
Dat Boi is an internet meme with the appearance of a green frog riding an unicycle.
In July 2014, a photoshopped image of a young boy named "Dat Boi" marked as the "most wanted criminal arrested" was posted on the internet. In June 2015, a post with the message "here come dat boi!!" and a picture of Pac-Man, with the caption "o shit waddup!" was posted. In April 2016, the image of a green frog riding an unicycle, taken from the Animation Factory Essential Collection 3, was posted with the caption "here come dat boi!!!!!! o shit waddup!". Since then, the image became viral on the internet and various videos and images were posted featuring the green frog riding an unicycle.
In M.U.G.E.N, Dat Boi has been made by DLF.
DLF's version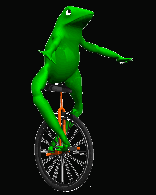 Here come dat boi! Watch it brother watch it go... or not. With a grant total of four sprites, a single animation and two attacks, of which one deals 1 damage and the other traps the opponent into a hit state until hit, this character is not going anywhere soon.