Cyber Akuma
Talk

0
4,036pages on
this wiki
Cyber Akuma

Cyber Akuma (also known as Mech Gouki)

Creator(s)

Various

Download

Origin

Marvel Super Heroes VS Street Fighter

Cyber Akuma is the final boss in Marvel Super Heroes vs. Street Fighter. You will face him after defeating Apocalypse. His main apperance looks similar to that of the Street Fighter Alpha series version of Akuma in his normal form, the most noticable changes however are that he has his right arm replaced with a cyborg arm, an eyepeice over the right side of his face and robotic sandles allowing him to move faster. He also has two cybernetic wings concealed within himself part from his introduction and when he performs certain special moves.
In M.U.G.E.N, Cyber Akuma was made by various authors.
Cyber Akuma's gameplay is very similar to Shin Akuma as he does use nearly all the same moves he would normally do, there are however noticable differences between them as Cyber Akuma's attacks deal more damage, he takes less damage to attacks and has some unique attacks such as being able to launch his mechanical hand as a projectile and peform a Shun Goku Satsu in the air as well as on the ground.
One unique ability about this version of Cyber Akuma is that anytime durring the battle, the player can switch between Arcade and Custom mode.
Arcade ModeEdit
Arcade Mode, which is also the defualt mode for Cyber Akuma, will make him behave in the same way he does in the original game.
Custom ModeEdit
Custom Mode will alter Cyber Akuma's gameplay by changing these features...
Perform more combos (like being able to do a full 6-hit chain on the ground).
The ability to juggle opponent after they have been tripped.
Special moves can be canceled into super moves.
You can recovery roll backward by pressing B, DB, D, and any kick button.
However, to balance him out with these alterations, his attacks do less damage, and he also takes 25% more damage from the opponent.
Infinity Gems
Edit
When in Custom Mode, Cyber Akuma will also be able to access a feature used in the Marvel Super Heroes vs. Street Fighter game called Infinity Gems to enhance his fighting ability, Each Gem can only be used once per round and will last for a short period of time. Below is a list of all the gems which Cyber Akuma can choose durring the battle.
This gem gradually fills up the power meter. Useful if you want to quickly gain power without doing anything.
Power GemEdit
This is exactly what it sounds like. All of Mech Gouki's attacks do more damage. Also, his Hadoukens are more powerful.
Reality GemEdit
While active, this gem fires different projectiles depending on the the strength of your attack. A weak punch/kick causes 3 small balls of fire to shoot out. A medium punch/kick will have icicles fall onto the opponent. And a strong punch/kick will fire homing electrical balls.
Like the Mind Gem, but instead of filling up the power meter, it gradually fills part of your life meter. Helpful if you just need that extra life to defeat an opponent.
Space GemEdit
This is basically a super armor. You take less damage and your attacks are uninterrupt-able.
Speed is drastically increased, including normal attacks.
Key
D = Down
F = Right
B = Left
DB = Down-left
DF = Down-right
A/B = Punch
X/Y = Kick
BOLT HADOUKEN - D, DF, F, punch

ZANKUU BOLT HADOUKEN - D, DF, F, punch (while in the air)

SHINING CIRCUIT SHOURYUU KEN - F, D, DF, punch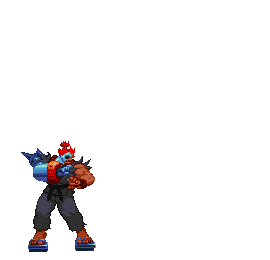 THUNDER SHOCK ZANKUKYAKYU - D, DB, B, kick (can be done in the air)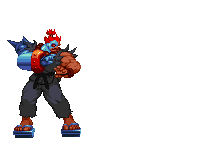 DIVING ROCKET KUJINKYAKU - D, DF, F, kick (while in the air)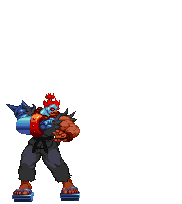 LIGHTNING SENKUU (forward - long) - F, D, DF, any two punches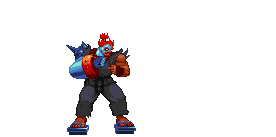 LIGHTNING SENKUU (forward - short) - F, D, DF, any two kicks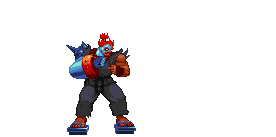 LIGHTNING SENKUU (backward - long) - B, D, DB, any two punches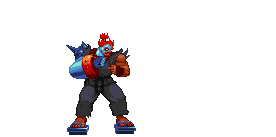 LIGHTNING SENKUU (backward - short) - B, D, DB, any two kicks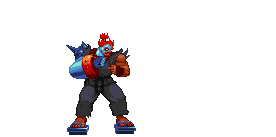 Scramble Gou Punch - D, DF, F, any two punches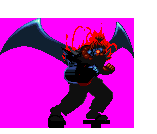 High Mega Gou Beam - D, DB, B, any two punches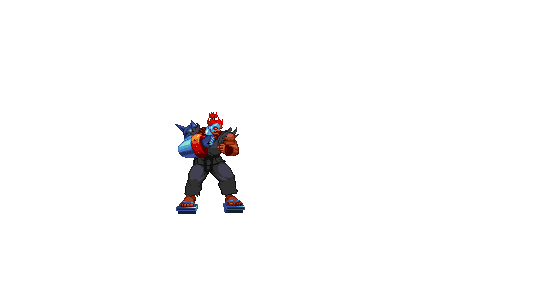 Thunder Gou Shower - D, DF, F, any two punches (while in the air)

Shining Gou Shock - X, X, F, A, Z

Aerial Shining Gou Shock - X, X, F, A, Z (in air)

MODE SELECTION - D, DF, F, start
GEM SELECTION - D, DF, F, and punch and kick of same strength
ACTIVATE GEM - D, DB, B, and punch and kick of same strength