HOLD ON!
There are versions of this character available that don't have their own branch articles!
Please help us document the following:
Crash Bandicoot



Creator(s)

Various

Oldest version

Stefanbandicoot's version

Newest version

MGSSJ2's version (2017)

Origin

Crash Bandicoot
Crash Bandicoot is the protagonist of the game series of the same name, with the appearance of an antrophomorphic bandicoot. He first appaeared in the game Crash Bandicoot in 1996. His design is known for having constantly changed over time.
Crash Bandicoot is an Eastern Barred Bandicoot who lived on N. Sanity Island before being captured and mutated by Dr. Neo Cortex, the antagonist of the series. He planned to make Crash evil, though it failed because apparently he was immune to it. Crash goes on an adventure to stop Neo Cortex. He is often accompanied by hs ally, Aku Aku.
In M.U.G.E.N, Crash Bandicoot has been made by various creators, though Madoldcrow1105's version is the most notable.
Madoldcrow1105's version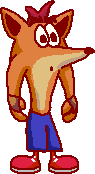 Like all of Madoldcrow1105's characters, this version of Crash uses custom sprites. While he uses all six buttons, the punch and kick buttons actually activate the same attack, effectively limiting his moveset and making him play more like a three-button character. His comboability is limited and his Normals behave strangely, making him difficult to master.