HOLD ON!

There are file links on this page that are either outdated or broken. This applies to the following download link(s):

Oni Dark Colonel
Buried Colonel
Resolute Blade
Killer Colonel

Please replace them with the latest working links!
Colonel Harland David Sanders (born September 9, 1890 - died December 16, 1980) was an American businessman and founder of the Kentucky Fried Chicken fast food chain. His image and likeness are currently used as the company's mascot.
In M.U.G.E.N, Colonel Sanders has been made by various creators.
Peg's version

Created to fight against his competitor Ronald McDonald, Colonel Sanders is almost as famous as him in the M.U.G.E.N community, and has also been edited many times. He is a bit of a simple character with a gameplay that is quite different from Donald's, however, and he may be a bit underpowered and have a few gameplay issues, but he has a brutal custom A.I.
Fantastic Colonel
Fantastic Colonel has hit boxes that can hit the opponent anywhere and can shoot fireballs and electricity. He is also capable of using the Raging Demon. Anytime he is hit, he will evade the attack instead of suffering from hitstun, but will still take damage.
Killer Colonel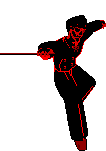 Many of Killer Colonel's attacks are a OHKO and cover the screen, his health is controlled by a separate lifebar in the corner. Once this lifebar hits ZERO Killer Colonel becomes defeated. However, in his 12th palette this is not the case, as the lifebar is unlimited and he gains Chaos/F1 Killer priority.
Blue Colonel
A joke edit of Dark Sanders by Untruthful Dragon, also known as Ocean Blue Colonel 2nd is a revamp of an older edit the author made in the past. This edit is much stronger, has new Specials, new Hypers and new intros. He also has a non-cheap palette (8th) as well as a dark palette (11th), his A.I. loves to spam strikers and spam projectiles.
The Will of Universe-Colonel
An edit of Dark Sanders by RM-065, it basically is a parody of the Orochi edit "The Will of Universe", having similar effects and attacks to it. This edit is fairly cheap having many screen fillers and reversals, however it suffers a flaw of being able to be killed with Hitpausetime lifesets.
Trivia
Colonel Sanders has a special intro against Ronald McDonald.
Colonel is also an attack assist for Donalddesu's Ronald McDonald.
Colonel Sanders appears in one of the Giant Chicken's intros, running away from him.
Dark Sanders appears as one of Dark Spongebob's helpers.
The theme that plays for Killer Colonel is Rose At Twilight by NemesisTheory.
Videos