Chum Bucket is a stage from the cartoon Spongebob Squarepants. The Chum Bucket is a restaurant for disgusting foods owned by Plankton, it's also where Plankton lives as well.
Alessiofuffa3's version
The stage was requested by Supermaster10 in deviantART, the background was original, but the difference is the ground that is glitchy. The software used to make this was Automatic Stage Creation Tool.
Mugen Toon's version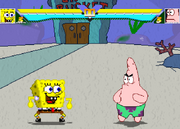 This version of the stage is unlike the others in that it's custom made, not an image. It is animated, with swaying kelp and a bus driving past in the background. Super Jump is also enabled on this version of the stage.
Knuckles9999's version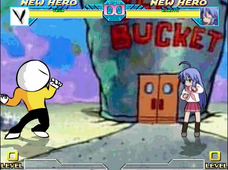 This version is similar to Alessiofuffa3's as it is an image from the show, but this version does not have any glitches. This version was used with Fighter Factory.
Videos