Some of Beanfan112's old shame. It utilizes four buttons, two Specials and two Hypers, as well as Chain Comboing. Armed with a belt, a gun and a washing machine that fires soap at the rate of a gatling gun, this bully will make you regret laughing at its MS Paint body.
Bully in the Launderette (

Bully in the Launderette

)



Creator

Beanfan112

Download

Resolution

Low
Gameplay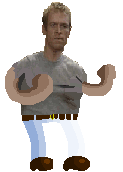 The Bully In The Launderette has four buttons to work with, a la Kung Fu Man. It can chain light attacks to heavy attacks (like (X)

-> (Y)

), as well as its Normals into Specials and Specials into Hypers. It is capable of chaining all of its standing Normals together ((X)

-> (A)

-> (Y)

-> (B)

). The Normals themselves aren't very notable, save for the crouching (B)

that slides him forward a small distance, and the crouching (Y)

that hits twice.
However, it doesn't have many Specials to chain into, as it only has a kung fu palm variant (dubbed the Jacket Palm) and a projectile (the Gun). The Gun has only one version, while the Jacket Palm works with both LP and MP, leaving the bully with a very shallow meterless movepool. The Gun misses close up.
The two Hypers it sports comprises of the Washing Machine, which is a projectile super similar to the author's other chars with the bullet shooting hypers, and an autocombo simply named the Punching Combo that has a very long startup. The Punching Combo suffers from less damage than the Washing Machine Hyper, as well as an incredibly long startup of 50 frames. This startup not only makes it really hard to connect with the move, it also makes it impossible to combo into.
Bully In The Launderette has no A.I., meaning it just jumps about and blocks occasionally.
Stats
Movelist
Hovering the mouse cursor over the Command Input icons will display text that refers to the inputs set in M.U.G.E.N's Key Config.
Icons encased in square brackets [

] require the respective button(s) to be held down. Hovering the mouse cursor over the icon displays the hold duration if applicable.
Specials
Name
Command Input
Properties
Name
Command Input
Properties
Hypers
Name
Command Input
Properties

| | | |
| --- | --- | --- |
| Washing Machine | + | Uses 1000 Power |
Name
Command Input
Properties

| | | |
| --- | --- | --- |
| Punching Combo | + | Uses 1000 Power |
Palette Gallery
| | | |
| --- | --- | --- |
| | | |
| BITL | BITL0 | BITL1 |
| | | |
| BITL2 | BITL3 | BITL4 |
Victory quotes
General
"

For the last time...when I came here, this was white!

"
"

I must have something to it!

"
"

Let's have a look then, shall we?

"
"

My shirt is white, not black!

"
"

I noticed you wearing a skirt?

"
"

Por última vez ... cuando llegué aquí, esto era blanco!

"
"

Tengo que tener algo que hacer!

"
"

Vamos a echar un vistazo a continuación, ¿de acuerdo?

"
"

Mi camiseta es de color blanco, no negro!

"
"

Me di cuenta de que llevaba una falda?

"
"

Pour la dernière fois ... quand je suis venu ici, cela était blanc!

"
"

Je dois avoir quelque chose à faire!

"
"

Ayons un regard, puis, allons-nous?

"
"

Ma chemise est blanche, pas noir!

"
"

J'ai remarqué que vous portez une jupe?

"
"

Zum letzten Mal ... als ich hierher kam, war dies weiß!

"
"

Ich muss etwas dagegen haben!

"
"

Lasst uns einen Blick dann, sollen wir?

"
"

Mein Hemd ist weiß, nicht schwarz!

"
"

Ich bemerkt, dass Sie trägt einen Rock?

"
Videos
Edits
This character has not been edited.
Ad blocker interference detected!
Wikia is a free-to-use site that makes money from advertising. We have a modified experience for viewers using ad blockers

Wikia is not accessible if you've made further modifications. Remove the custom ad blocker rule(s) and the page will load as expected.