Bugs Bunny
Talk

0
3,120pages on
this wiki
Bugs Bunny

"What's up, doc?"

Creator(s)

Richardyzo
Storm0062
Zobbes

Download

Origin

Looney Tunes

Bugs Bunny is a famous Cartoon character made by Friz Freleng. He is widely known as the main character in Looney Tunes, and for being very clever and sly with many other characters. In M.U.G.E.N, there are three versions created. He is also a striker of Aperson98's Taz and of BeanFan112's Lola Bunny.
Richardyzo's Version
Edit
This Bugs Bunny was the first version made in M.U.G.E.N. The creation isn't very good, such as poor sprite editing and bad collisions. The sounds are pretty quiet. He has 6 hypers.
Storm0062's Version
Edit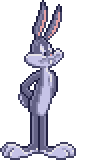 This Bugs Bunny can only do a handful of attacks but seems to have no specials. Also, he is pretty short, too. This version has a cheap hyper which can reach over an infinite combo. It uses the sprites from the SNES game, Bugs Bunny: Rabbit Rampage.
Life: 1000
Power: 3000
Attack: 100
Defence: 100
Key
D = Down
F = Right
B = Left
DB = Down-left
DF = Down-right
a/b/c = Kick
x/y/z = Punch
Dynamite Throw - A
Cake Throw - B
Dog Helper - X+A
Turtle Helper - Z (or D, Z)
Turtle Invasion - Y+B (Requires 3 power bars)
Hyper spin - X+Y (Requires 2 power bars)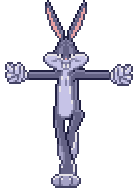 Zobbes' Edit
Edit
Zobbes also made an edit of Storm0062's Bugs Bunny, with sounds, a new select portrait, a winquote, and running sprites. Zobbes has also edited Bugs Bunny's turtle hyper. Instead of jumping, Bugs eats a carrot. The turtle hyper was fixed in an update, this time, Bugs cannot summon an infinite amount of turtles.