Coded by Ryon and sprited by Flammableking, this character definitely looks fearsome, but it is hindered by lack of overheads, low attacks, and chip damage (aside from the Atomic Grand Slam Hyper). However, this Juggernaut sprite edit is capable of clearing out three quarters of its opponents health by chaining three Fatal Fist attacks together, so it's not a fighter one should take lightly.
BuckDozer (

Buck Dozer By Ryon

)



Creator

Ryon & Flammableking

Download

Resolution

Low
Gameplay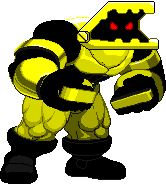 Buck Dozer has somewhat of a minimalist moveset, coming with only two Special Moves and two Hypers. It is made to play like a Marvel vs. Capcom character, with Chain Comboing, a Launcher mapped to

+(Z)

and simple Hyper motions like Ryon's previous requested character. It has multiple colors to pick from, unlike all of the other Wrecking Crew characters. The only projectile move it has is the Atomic Grand Slam Hyper, so it relies on getting up close and personal to the opponent. Its size is very large, so its a big target for projectiles, but it has quite a large range to compensate.
It has some bugs though. Its Specials do way more damage than its Normals, most notably the Fatal Fist, which can be chained three times in a row for massive damage against characters without an air recover. Not only this, but it has an easy Infinite by doing endlessly chaining crouching (Y)

into crouching (B)

. Although these advantages would make it easy to win with this character, it has several handicaps, such as not having any low/overhead attacks, having no throws, and none of the moves (save for the Atomic Grand Slam) do any chip damage. These limitations make it hard for it to defeat a turtling opponent. It will return to the ground state in midair if the player were to press

+(C)

in midair.
It has no A.I., meaning it jumps around, blocks a lot, and accidentally racks up a combo once in a while.
Stats
Movelist
Hovering the mouse cursor over the Command Input icons will display text that refers to the inputs set in M.U.G.E.N's Key Config.
Icons encased in square brackets [

] require the respective button(s) to be held down. Hovering the mouse cursor over the icon displays the hold duration if applicable.
Specials
Name
Command Input
Properties

| | | |
| --- | --- | --- |
| Shoulder Charge | | |
Name
Command Input
Properties

| | | |
| --- | --- | --- |
| Fatal Fist | | |
Hypers
Name
Command Input
Properties

| | | |
| --- | --- | --- |
| Atomic Grand Slam | | Uses 1000 Power |
Name
Command Input
Properties

| | | |
| --- | --- | --- |
| Dozer | | Uses 1000 Power |
Palette Gallery
| | | |
| --- | --- | --- |
| | | |
| 1 | 2 | 3 |
| | | |
| 4 | 5 | 6 |
| | | |
| 7 | 8 | 9 |
| | | |
| 10 | 11 | 12 |
Victory quotes
General
"

I'm a peaceful creature...until given a reason not to be.

"
"

You will never get that hammer from me...

"
"

I'm centimeters from lifting you by your throat, off of the ground, and crushing you again...

"
"

Consider that vicious thrashing a warning...

"
"

You would not have to keep suffering my wrath if you would stop giving people reason to send me after you...

"
"

You entered the arena in good shape, and willingness to fight me...you left in separate medical vehicles...what did we learn?

"
"

You look as though you've gone through a trash-compactor and a wood chipper...I would apologize, but I simply do not care...

"
Videos
Edits
This character has not been edited.
Ad blocker interference detected!
Wikia is a free-to-use site that makes money from advertising. We have a modified experience for viewers using ad blockers

Wikia is not accessible if you've made further modifications. Remove the custom ad blocker rule(s) and the page will load as expected.