Buck Dozer

Creator(s)

Flammableking & Ryon

Oldest version

Newest version

Origin

Original
Buck Dozer is an original character intended to be a part of Flammableking's full game, Demolition Crew. He is a large, yellow bulldozer monster who talks in hushed growls.
Buck Dozer was originally known as Rex Barton, a burly construction worker who had the strength to knock an average sized man six feet away from him with nothing more than a shoulder check. When one of his buddies remarked on this, comparing him to a wrecking ball, Rex thought to himself how he would prefer to be a bulldozer in order to get more work done around the site. Unfortunately, he used the keywords "I wish." His wish was granted, and he had become a giant yellow monstrosity amplifying his already great strength to superhuman levels.
In M.U.G.E.N, Buck Dozer has been made once by the combined effort of Ryon & Flammableking.
Ryon & Flammableking's version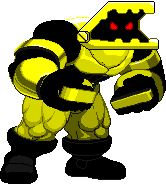 Coded by Ryon and sprited by Flammableking, this character definitely looks fearsome, but it is hindered by lack of overheads, low attacks, and chip damage (aside from the Atomic Grand Slam Hyper). However, this Juggernaut sprite edit is capable of clearing out three quarters of its opponents health by chaining three Fatal Fist attacks together, so it's not a fighter one should take lightly.