Broly is a Saiyan from the Dragon Ball series, who makes his debut as the main antagonist of the movies Dragon Ball Z: Broly - The Legendary Super Saiyan, Broly: Second Coming, and Bio-Broly.
Broly is the latest of saiyans who are able to attain an ascended form of Super Saiyan known as Legendary Super Saiyan, users of which are said to only appear once every 1000 years. Unlike lower levels of Super Saiyan, which quickly exhaust their power the longer they stay transformed, Legendary Super Saiyans' power will continually increase at an exponential rate for as long as their transformation lasts. Broly's aggression, which is said to be extremely high even by saiyan standards, is further fueled by his intense hatred for Goku, which stems from Broly's great irritation at an infant Goku's incessant crying years ago.
In M.U.G.E.N, Broly has been made by various creators.
Necromancer's version

Broly has a slow walk cycle, but has an alarmingly fast dash and hits with hard, consecutive moves and brutal A.I. Time after time, Broly will often pause the fight to taunt the player depending on their state while fighting him. He also has super armor while doing his special moves. Contrary to the A.I. which relentlessly locks down players with absurdly damaging combos, this Broly is surprisingly hard to play as and string together combos efficiently, though compensates for this due to the armor on many of his attacks.
Palette Gallery
| | | |
| --- | --- | --- |
| | | |
| Broli01 (Original Colors) | Broli02 | Broli03 |
| | | |
| Broli04 | Broli05 | Broli06 |
Limiter Cut version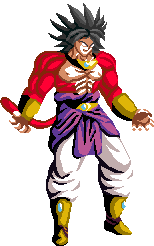 This Broly, when palettes 1-10 are active, can be KOed like any other opponent but is still a force to be reckoned with. In his 11th palette, however, his stats become insanely high, to the point that 4 standard attacks can KO most fighters. His 12th palette takes it a step further, where he becomes essentially immortal and his stats are raised incredibly high and due to certain lines of code that allow it to defeat even most cheapies.
Palette Gallery
| | | |
| --- | --- | --- |
| | | |
| broly2 (Original Colors) | broly3 | broly4 |
| | | |
| broly5 | broly6 | broly13 |
| | | |
| broly7 | broly8 | broly9 |
| | | |
| broly10 | broly11 | broly2 |
Videos