| | |
| --- | --- |
| | WARNING! This article contains information about a creation that is considered Not Safe for Work. Reader discretion is advised. |
King Bowser Koopa (usually referred to as just Bowser) is the primary antagonist of the Super Mario series and is widely considered to be one of the most recognizable video game villains of all time. The majority of his villainy revolves around him kidnapping Princess Peach in order to conquer the Mushroom Kingdom, although he has been known to side with Mario in the RPG spin-offs in order to defeat a much greater threat.
Bowser's most defining traits are his physical strength, ability to breathe fire and a large spike-clad shell which he can retreat into, although he has been shown to use magic in certain games. Bowser has also been a playable character in the Super Smash Bros. series starting with Super Smash Bros. Melee.
Bowser has been created in M.U.G.E.N several times, with K.Y Shanxi's version being the only one which uses custom sprites.
Shazzo's Bowser
Edit

As an apparent spriteswap of CvS_Axel, This Bowser is one of the most underused and like all of Shazzo's creations, mediocre.
K.Y-Shanxi's Bowser
Edit
Battles with Bowser are often considered boss fights. In M.U.G.E.N, this is no exception, as its brute strength and very damaging Hypers will put most at a stand. The best (or worst, in the case of Mario) part is that its A.I will ensure domination of the Mushroom Kingdom.
MUGENX's Bowser (SMB3)
Edit
MUGENX's Bowser has edited sprites from Super Mario Bros. 3. Its AI is overpowered and has moves that are based off of Super Smash Bros. Brawl. He can transform into New Super Mario Bros. Bowser and doesn't flinch when hit by anyone. Much like MUGENX's Mario, it's pretty poorly made and coded and can also knock you off-screen.
jhfer's Bowser (Kart Fighter)
Edit
jhfer's Bowser is the Kart Fighter version.
Exclamation_Question's Bowser (Kart Fighter)
Edit
Another version of Bowser from Kart Fighter is made by Exclamation_Question. It uses two buttons,
and
.
Hovering the mouse cursor over the icons will display a more direct activation method akin to how the move activations are coded; this is what the following key/legend represents.
Key
D = Down
F = Right
B = Left
U = Up
DF = Down-right
DB = Down-left
UF = Up-right
UB = Up-left
a/b/c = Kick
x/y/z = Punch
s = Taunt
Icons encased in square brackets [
] mean for the respective button(s) to be held down.
Name
Command Input
Properties
Name
Command Input
Properties

| | | |
| --- | --- | --- |
| Stomp | | |
Name
Command Input
Properties
Palette GalleryEdit
| | | |
| --- | --- | --- |
| | | |
| Bowser | Bowser2 | Bowser3 |
| | | |
| Bowser4 | Bowser5 | Bowser6 |
storm0062's Bowser (SMW)
Edit
In this version of Bowser, he is seen riding his Koopa Clown Car. This version also comes with its own stage.
ArchaicGamer's (aka Mature4Evr) Bowser (SMB1)
Edit
ArchaicGamer's Bowser is from the first Super Mario Bros., but it is poorly made. Cyberlizard used this Bowser as a base for his Treecko. Strangely, he can use ducks from Duck Hunt, and can throw hammers.
J.NEWMAN's Bowser (Mario & Luigi: Partners In Time)
Edit
J.NEWMAN's Bowser is from Mario & Luigi: Partners in Time, but it is poorly made.
mariotime's Version (Super Princess Peach)
Edit

This Bowser uses edited sprites from Super Princess Peach and plays almost like a Smash Bros. charcter minus the Final Smash.
S.Nara's Bowser (SSBB)
Edit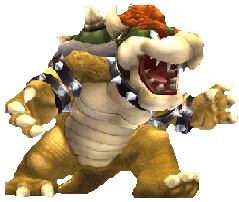 With visually unappealing sprites, overpowered supers, and an overall lack of quality, this is one Bowser nobody will hug.
DRACUL's Bowser (Yoshi's Island DS)
Edit
This version of Bowser made by DRACUL has sprites taken from Yoshi's Island DS but it is poorly made.
KoopaKingdom.com's Creations
Edit
Baby Bowser (SMW2: Yoshi's Island)
Edit
Baby Bowser has also been made for M.U.G.E.N. It is created by KoopaKingdom.com aka JKS, but there are still some Kung Fu Man sprites in Baby Bowser.
Bowser (Kart Fighter?)
Edit
KoopaKingdom.com also made another Bowser, and it may have been a Kart Fighter version. This version is offline.
Crazy Koopa's Bowser
Edit
There is another Bowser made by Crazy Koopa. This version is unavailable for download.
Link's Bowser (SSBM)
Edit
There is another Bowser made by Link that has SSBM moves. This version is unavailable for download.
DE@TH by SP0ON's creations
Edit
There are two versions of Bowser made by DE@TH by SP0ON. One is based off the Mario cartoons of the 1990's and is named "King Koopa", while the other is a playable version of his appearance from Super Mario World. Both are offline, however.
Bowser 64
Edit
There is a Bowser 64, though it has limited sprites that all come from SuperMario64's Bowser attacks, and is pretty low quality.[1]
Alexei Roschak's version
Edit
Sprited by Balthazar and coded by Alexei Roschak, this Bowser is an outright refurbishing of the final boss of Super Mario World.
References
Edit