Nothing moves the Blob. Not even a disappointing lack of attacks, can stop it. In fact, it has super armour and higher than average stats, but can't be agile at all.
Blob (

Blob

)



Creator

Magus & MythsofTaboo

Download

Resolution

Low
Gameplay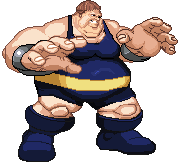 Blob is currently in an incomplete state, as it has no Specials or Hypers. It has all of its basic attacks implemented, but due to Blob's heavy nature, the gameplay is short. It is unable to do air combos. It also isn't able to run very far, as it will fall over.
Blob makes up for its speed due to its attacks having somewhat unfair range, as well as said attacks doing heavy amount of damage. These two factors are about enough to make Blob a Cheap Character.
Blob actually has an A.I, despite being incomplete. However, it is rather cheap, spamming its long ranged normals to an easy victory.
Stats
Movelist
This character does not have any Special or Hyper Attacks.
Palette Gallery
| | | |
| --- | --- | --- |
| | | |
| blob_01 | blob_02 | blob_03 |
| | | |
| blob_04 | blob_05 | blob_06 |
Victory quotes
This character does not have any victory quotes, meaning it uses the screenpack's default.
Videos
Edits
This character has not been edited.