Blob



Creator(s)

Magus & MythsofTaboo

Oldest version

Newest version

Origin
Not to be confused with Blob from ClayFighter.
Blob is a villain from the X-Men comics. He is very fat but strong. Somehow he still has the ability to jump, but the ability is very limited. He follows Magneto.
In M.U.G.E.N, Blob has been made by Magus & MythsofTaboo.
Magus & MythsofTaboo's version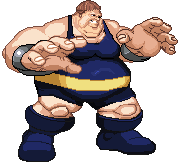 Nothing moves the Blob. Not even a disappointing lack of attacks, can stop it. In fact, it has super armour and higher than average stats, but can't be agile at all.