This subpage contains any edits of Nibanibaniniba's version of Black Rock Shooter. What is listed here is limited to what the edits change, meaning information should not be duplicated from the article about the original version outside of the idle animation and portrait, even if they haven't changed.
Wolfer The Wolf's edit
Black Rock Shooter (

BRS_HR_M1.O

)



Editor

Wolfer The Wolf

Download

Resolution

Unknown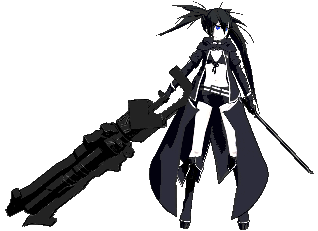 This edit allows the character to function in M.U.G.E.N 1.0 and makes a few minor changes such as the appearance of the character's meters, though its stats and moveset remain unchanged; Vtrigger doesn't increase the damage output of Super Cannon and a move is missed as the edit is from a old version, however.
The edit does not have a custom A.I. and thus used the default M.U.G.E.N A.I.; it provides little in the way of challenge, preferring to play defensively and never attack the opponent.
Stats
Unchanged from original version.
Movelist
Unchanged from original version.
Palette Gallery
Victory quotes
Unchanged from original version.
Trivia
Black Rock Shooter has an alternative idle stance that displays if the character remains idle for at least three seconds; it will remain in this stance until either an input is performed or it gets hit.