Big Eli King



Creator(s)

XCB

Download

Origin

Original
Big Eli King is an original character made by XCB in the turn of the 2nd millenium. His attire consists of a white shirt with a dark gray vest and pants, brown shoes and a belt.
Gameplay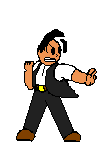 Big Eli King utilizes a Groove Select consisting of a "Speed" groove and a "Power" groove; the Speed groove allows him to chain attacks on the ground and in the air easily, while the Power groove greatly increases his damage output at the cost of drastically reduced mobility, losing the ability to run and jump, though he still retains his Backdash. The character's hitboxes are unchanged from Kung Fu Man's.
Ad blocker interference detected!
Wikia is a free-to-use site that makes money from advertising. We have a modified experience for viewers using ad blockers

Wikia is not accessible if you've made further modifications. Remove the custom ad blocker rule(s) and the page will load as expected.