Battler Ushiromiya



Creator(s)

Boomer
Baggy

Download

Origin

Legend of the Golden Witch
Battler Ushiromiya is the son of Rudolf and Kyrie Ushiromiya and is the main protagonist of the Umineko no Naku Koro ni series. He is described as a tall auburn haired man that is around 5 ft 11. He also tends to flirt with women but he is also kind and caring towards the people he loves. When his family is murdered, he refuses to believe that Beatrice had murdered them with magic. He can be an intelligent man due to the way his mother influenced him to think. He is also an avid reader of mystery novels. He is the cousin of George and Jessica Ushiromiya and he is also 18 years old. 
In M.U.G.E.N, Battler Ushiromiya has been made by Boomer and Baggy.
Gameplay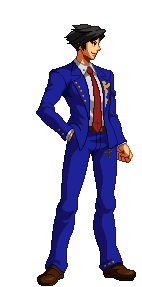 Battler's A.I. is challenging and he is a melee oriented character with a few projectiles. He has a few supers and they involve a grab, his Blue Truth, and a powerful strike and a few specials.    
Stats
Movelist
Hovering the mouse cursor over the Command Input icons will display text that refers to the inputs set in M.U.G.E.N's Key Config.
Icons encased in square brackets [

] require the respective button(s) to be held down. Hovering the mouse cursor over the icon displays the hold duration if applicable.
Palette Gallery
Videos