This version of Banjo is a three-button character with a moveset that is heavily based on the duo's skills from the Banjo-Kazooie games, being different from regular punches and kicks, and he has no real comboability as a result. The majority of the moves that are supposed to be Specials and Hypers are attributed as Normals, and over half of these are projectiles.
Banjo-Kazooie (

Banjo-Kazooie

)



Creator

Download

Resolution

Low
Gameplay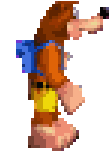 Banjo-Kazooie is a three button character, using the (X)

, (Y)

and (Z)

buttons for attacks, and has a very unusual gameplay because unlike most characters, whose Normals are punches and kicks, Banjo-Kazooie's Normals behave differently, like barrel rolls and Kazooie pecking. He also has a small amount of Specials and Hypers and several moves activated with directional inputs that are likely intended to be Specials or Hypers but incorrectly attributed as Normals, but no special features aside from that.
All of Banjo-Kazooie's Normals have a long range, but are very slow, and his comboability is almost non-existent as a result, aside from Normals that are already multi-hit attacks, though his attacks deal slightly more damage than most characters' attacks. Out of his Specials and misattributed Normals, over half of them are projectiles, but Fire Egg and Grenade Egg aren't very useful because they use up Power and don't deal much damage. His Ice Egg deals no damage but stuns the opponent.
Banjo-Kazooie has one Special that is likely intended to be Hyper because it has the characteristics of a Hyper, as well as a misattributed Normal that uses 3000 Power. While Breegull Smasher deals slightly less damage than the average level 1 Hyper, the last hit has a very long range. His Tank Banjo however, is flawed, as it knocks the opponent down on the first hit, causing the remaining hits to miss, dealing even less damage then Breegull Smasher, even for a level 3 Hyper, though all hits will connect if the first hit connects while the opponent is in the air, and Banjo-Kazooie is invincible during the Hyper.
This character has no custom A.I. and uses the engine's default. Because of the strange nature of his moves and his lack of comboability, combined with the fact that it often jumps around and blocks and rarely uses Specials and Hypers, it isn't very hard to beat.
Stats
Movelist
Hovering the mouse cursor over the Command Input icons will display text that refers to the inputs set in M.U.G.E.N's Key Config.
Icons encased in square brackets [

] require the respective button(s) to be held down. Hovering the mouse cursor over the icon displays the hold duration if applicable.
Specials
Name
Command Input
Properties

| | | |
| --- | --- | --- |
| Summon Mumbo zap shot | | * |
Name
Command Input
Properties
Name
Command Input
Properties

| | | |
| --- | --- | --- |
| Breegull Smasher | / | Uses 1000 Power |
Palette Gallery
Victory quotes
This character does not have any victory quotes, meaning it uses the screenpack's default.
Videos
Edits
This character has been edited. For a full list of edits, see Edits.