This article is about the Cave Story character. For other characters also named Balrog, see Balrog (disambiguation).
Balrog is a blocky looking henchman who, along with Misery, is in service of the Doctor.
Balrog is a recurring boss character encountered in the Mimiga Village Shack, Grasstown, Sand Zone and the Labyrinth. He is known for shouting out "Huzzah!" for when he comes crashing to the ground before conversing with and, ultimately, attacking the player in certain places.
In M.U.G.E.N, Balrog has been made by Michael Armaros.
Michael Armaros' version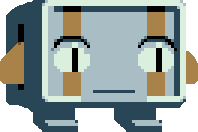 One might think that this character can't be aggressive in any way, especially by its appearance, but that one may just be surprised at how ruthless its attacks can be in that they can't be blocked. Beware of Balrog.