Bahamut SIN



Creator(s)

Artistropeadope

Download

Origin

Final Fantasy
Bahamut SIN is a new form of Bahamut summoned by Kadaj, the antagonist of Final Fantasy VII: Advent Children. Its attack is not named in the film, but is called "Tremor Flare" in the 10th Anniversary Ultimania. Bahamut SIN's design was inspired by the culture of the Jōmon period in Japanese history, as its designer Takayuki Takeya felt that Bahamut's image of a winged dragon was set, and he wanted a particular aesthetic to make Bahamut SIN more unique from other incarnations.
In M.U.G.E.N, Bahamut SIN was created by Artistropeadope.
ARTISTROPEADOPE's Bahamut SIN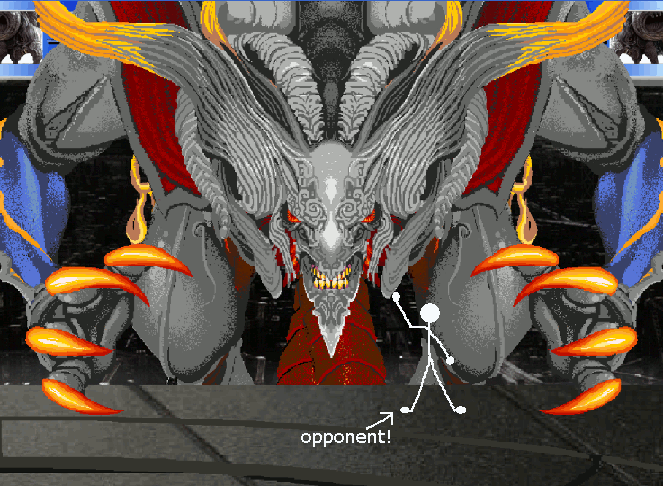 Bahamut SIN is a boss character, and is best used as a CPU. This character is an edit of "D&D Red Dragon" by Doggiedoo. It is essentially the same except that it's eyes blink, mouth opens, eyes follow opponents, tail sways & sprites are tripled in size. This character has its own platform for the opponent to stand on & a weak spot on its head. Characters with strong air combos will do well against it, as well as smaller characters with good evasive abilities. At random, the A.I. will fire Tremor Flare which is usually powerful enough to KO an opponent in one shot. Bahamut SIN has a slight increase of attack power, ignores the power meter and possesses similar abilities to "Red Dragon".
Stats
Movelist
Hovering the mouse cursor over the Command Input icons will display text that refers to the inputs set in M.U.G.E.N's Key Config.
Icons encased in square brackets [

] require the respective button(s) to be held down. Hovering the mouse cursor over the icon displays the hold duration if applicable.
Specials
Name
Command Input
Properties
Name
Command Input
Properties
Name
Command Input
Properties

| | | |
| --- | --- | --- |
| Bombardment | | |
Name
Command Input
Properties

| | | |
| --- | --- | --- |
| Claw Swipe | or | |
Name
Command Input
Properties
Name
Command Input
Properties

| | | |
| --- | --- | --- |
| Shadow Creeper Summoning | | Summons an A.I.-controlled clones |
Name
Command Input
Properties

| | | |
| --- | --- | --- |
| Devour | | |
Name
Command Input
Properties
Name
Command Input
Properties
Name
Command Input
Properties
Name
Command Input
Properties
Name
Command Input
Properties
Name
Command Input
Properties
Name
Command Input
Properties
Palette Gallery
| | | |
| --- | --- | --- |
| | | |
| Water | Holy | Blood |
| | | |
| Alien | Default | |