Baby Commando



Creator(s)

Acey, Junior Blader & The Anvil
Leonardo

Oldest version

Leonardo's version

Newest version

Origin

Captain Commando
Baby Commando (known as Baby Head in English and known as Hoover in Japan) is a member of the commando team from the game Captain Commando. He is a genius baby who creates and pilots his own machines. It's said that he is proficient in three million different cosmic languages, though when asked to speak them, he suddenly claimed it was his nap time. He created the Captain Gauntlet, the machine that allows Captain Commando to use his Captain Collider and Captain Fire attacks.
In M.U.G.E.N, Baby Commando has been made twice: once by the combined efforts of Acey, Junior Blader & The Anvil, and again by Leonardo.
Acey, Junior Blader & The Anvil's version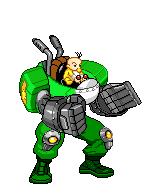 This version uses sprites based off of his striker sprites from Captain Commando, six buttons, and a Marvel vs. Capcom-styled gameplay.