Art of Fury



Creator

David "Ironmugen" Demianoff

Download

Latest Version

v1.0
Art of Fury is a M.U.G.E.N project by David "Ironmugen" Demianoff. It is a crossover between Fatal Fury and Art of Fighting characters, featuring a mix of AoF and FF gameplay.
Characters
Art of Fighting characters
Takuma Sakazaki
King
Lee Pai Long
Kasumi Todo
John Crawley
Eiji Kisaragi
Mr. Big
Fatal Fury characters
Andy Bogard
Joe Higashi
Kim Kaphwan
Tung Fu Rue
Li Xiangfei
Ryuji Yamazaki
Billy Kane
Wolfgang Krauser
Mr.Karate
Wild Wolf
Miss Karate
Wild Kane
Young Geese
Nightmare Geese
Laurent Demianoff
Stages
Art of Fighting stages
National Park
Gas Station
Karate Gym
Fitness Club
Southtown Park
China Town
Karuta
Crawley's Air Field
Airport
Parking Garage
Fatal Fury stages
Sound Beach
Howard Arena
National Park
East Side Park
Seoul
Mountainside
Street Market
South Station
London
Stroheim Castle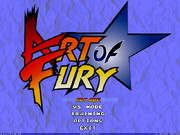 Plot
An unknown power is creating a time paradox over the world. Merging the past, the present and the future for a day. Terry Bogard will have to fight once again Wolfgang Krauser in order to discover the truth.
System
Basics
Art of Fury uses 4 buttons for its gameplay : A for weak attacks, B for medium attacks, C for strong attacks and X for taunt.
You start the fight with full power. Almost all special attacks cost power and it's strength will decrease if the power gauge gets lower like in Art of Fighting.
Taunting will also dicrease your opponent's power gauge.
Hold back and press X to charge your power.
Advanced
Dodge attacks can be done during a guard: before or after the impact press Forward + X. It will also dodge projectiles.
Feints can be done by inputing the command QCF+X. It requires at least 70% of the power gauge but doesn't cost any. Feints can be canceled from basic attacks, in this case the screen will pause for half a second and will allow you to attack your opponent for deadly combos. Super Feints will cost a bit of power.
Super Death Blows require full power gauge and can be canceled from certain special attacks, in this case it's called "Final Impact".
Desperation Move require full power gauge and low life (the portrait of your character will change).