Being based on her appearance from Puyo Pop Fever, so much so that the sprites are taken from said game. This version of Arle is quite limited in the amount of moves she can use and must rely on multiple kinds of magic spells and Puyos to stand a chance in the mist of a fight. Just make sure she does not get into a fever of any sorts, especially a Puyo Fever.
Arle (

Arle

)



Creator

M3

Download

Localcoord

320x240
Gameplay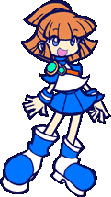 Arle is a four-button character that uses (X)

to shoot Puyos, (A)
to shoot a lightning bolt, (B)
to shoot a flame and (Y)

summon an orb that makes most of her moves stronger than normal. Arle also comes bundled with a patch for M.U.G.E.N 1.0 that adds a localcoord and changes her A.I.
Arle is able to shoot different kinds of Puyo, each with there own color and velocities, depending on which direction button is pressed in conjunction with (X)

, each kind of Puyo have different proprieties if they hit the opponent; though, if one Puyo touches the ground all Puyos on screen, regardless of color, will disappear.
Arle also uses a special meter that can fill up if a certain number of Puyos hit the opponent. When the meter is full, the player is able to use フィーバーモード which causes Arle to go into Fever Mode, Fever Mode causes multiple colors of Puyo to fall from the sky, these Puyo can do heavy amounts of damage if comboed into one another, so it's best advised to block or hit Arle while she is performing the move, doing so cancels Fever Mode and also cancels the Puyo from falling down.
Arle uses custom A.I. that tends to just jump and hop around while performing most of her attacks, especially the Puyo throws. She also tends to use her Hypers when she gets enough power to use them, the A.I may also make her use フィーバーモード when the meter is full.
Stats
Movelist
Hovering the mouse cursor over the Command Input icons will display text that refers to the inputs set in M.U.G.E.N's Key Config.
Icons encased in square brackets [

] require the respective button(s) to be held down. Hovering the mouse cursor over the gap displays the hold duration if applicable.
This character's movelist is in a language other than English. English translations for attack names can be viewed by hovering the mouse cursor over the non-english text.
Hypers
Name
Command Input
Properties

| | | |
| --- | --- | --- |
| アイスストーム | | Uses 1000 Power |
Name
Command Input
Properties

| | | |
| --- | --- | --- |
| ヘブンレイ | | Uses 2000 Power |
Name
Command Input
Properties

| | | |
| --- | --- | --- |
| ばよえーん | | Uses 2000 Power |
Name
Command Input
Properties

フィーバーモード

Uses 1000 Power
Only usable if the meter is full
Palette Gallery
| | | |
| --- | --- | --- |
| | | |
| aruru1 | aruru2 | aruru3 |
| | | |
| aruru4 | aruru5 | aruru6 |
Victory quotes
This character does not have any victory quotes, meaning it uses the screenpack's default.
Videos
Trivia
Arle has a special intro against the creator's own Amitie.
Edits
This character has not been edited.
Ad blocker interference detected!
Wikia is a free-to-use site that makes money from advertising. We have a modified experience for viewers using ad blockers

Wikia is not accessible if you've made further modifications. Remove the custom ad blocker rule(s) and the page will load as expected.