Ange Ushiromiya



Creator(s)

Yu-Toharu

Download

Origin

Banquet of the Golden Witch
Ange Ushiromiya is a character the first debuts in Banquet of the Golden Witch. She is the only daughter of Rudolf and Kyrie Ushiromiya and is the younger sister of Battler Ushiromiya. After her family is slaughtered on Rokkenjima by Eva Ushiromiya, she becomes one of the only surviving members of her family. She is later adopted by her aunt Eva and has a rough childhood during the Alliance of the Golden Witch. She is also enrolled into St. Lucia's Academy and has trouble befriending the students due to her being different.  She later finds clues about why her family was murdered and inherits the Seven Sisters of Purgatory later on. She later becomes known as the Witch of Resurrection.   
In M.U.G.E.N, Ange Ushiromiya has been made twice by Yu-Toharu and Deer. 
Gameplay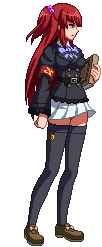 Ange is character with a fair AI and she is a 6 button character. She can choose one striker of her choice before commencing battle. When in battle she makes use of many strikers such as the Sisters of Purgatory and others. When in melee, she will use kicks of varying strength. She has few supers involving kicks and punches and few involving strikers. She also can summon Sakutarou who heals her and follows Ange around the screen.  
Stats
Movelist
Hovering the mouse cursor over the Command Input icons will display text that refers to the inputs set in M.U.G.E.N's Key Config.
Icons encased in square brackets [

] require the respective button(s) to be held down. Hovering the mouse cursor over the icon displays the hold duration if applicable.
Palette Gallery
Deer's version
This version of Ange has Melty Blood gameplay. Ange retains all of her strikers, specials, and supers. The only difference is that Ange is quicker and does not use the standard power system. She instead uses the heat system. She can gain heat if she hits her opponent or gets hit. If she reaches 100% she can activate her heat which increases her speed. Among the other notable features of Melty Blood gameplay is that Ange maybe able to do various counters, use breaks, an assortment of attack cancels, and etc.
Stats
Palette Gallery
| | | |
| --- | --- | --- |
| | | |
| 12 | 11 | 10 |
| | | |
| 9 | 8 | 7 |
| | | |
| 6 | 5 | 4 |
| | | |
| 3 | 2 | 1 |
Videos