Akatsuki



Creator(s)

Various

Oldest version

Newest version

Origin

Akatsuki Blitzkampf
Akatsuki is the main character of the Akatsuki Blitzkampf series, first appearing in Akatsuki Blitzkampf and then its sequel, En-Eins Perfektewelt. He later made a guest appearance in Under Night In-Birth.
A high class technical officer of the Imperial army, Akatsuki was believed to have been killed nearing the end of a harsh war, but returned 50 years later alive and completely unaged, wielding supernatural powers to resume his long mission; how he came back, however, still remains a mystery.
In M.U.G.E.N, Akatsuki has been made by various authors.
Mikita's version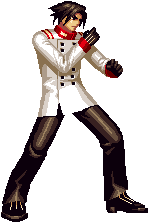 This version of the Imperial Officer bursts out of the ice to resume their mission with a gameplay similar to the source game they first appeared in.