Adrian J. Rodriguez-Castillo is a self insert of the creator of the same name.
Adrian is a big, hulking man with a huge upper-body and a comparatively smaller lower-body. He appears to like Basketball and is capable of creating pillars of energy.
In M.U.G.E.N, Adrian was created once by Adrian. His sprites are custom, with a mix of MS Paint and edited Strong Guy sprites. He fights by throwing basketballs, creating huge pillars of energy, and executing powerful tackles.
Adrian's version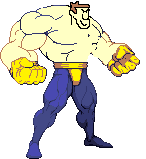 A big man with a small head, Adrian attempts to ape MvC's style of gameplay.
Ad blocker interference detected!
Wikia is a free-to-use site that makes money from advertising. We have a modified experience for viewers using ad blockers

Wikia is not accessible if you've made further modifications. Remove the custom ad blocker rule(s) and the page will load as expected.